Domaine de Maison Blanche
« The Chasselas in all its forms »
On the estate the Chasselas grape is king. A historic grape variety of the Lake Geneva region, it is made into all sorts of wines: « the Chasselas in all its forms »!
---
Maison blanche… Yesterday
Originally from Savoy, the de Mestral family is first documented at Mont in 1248.
In those days Mont was part of the Duchy of Savoy, and Pierre was Mestral of the fortress owned by Louis of Savoy. The 'Maison Blanche', built in the XIIIe century, was originally a fortress, storing salt, protected by a garrison. Jean, commander of a battalion in the service of François 1st, acquired it in 1528. Since then, it has remained the property of the de Mestral family. In autumn 1985 Yves de Mestral took over the estate, (then 4 hectares in area) becoming the first wine-maker in the de Mestral family.
The Maison blanche Estate today
Increased over the years by purchases and rentals, the area of the estate has grown to 10 hectares. It is mainly composed of Chasselas, the grape variety which is typical to the Canton of Vaud. Yves and Antoine de Mestral like to play around with it, making wine in every imaginable way : the Chasselas in all its forms !
Other favourite grape varieties complete the assortment such as Viognier and Savagnin Blanc, or Gamay, Pinot Noir, Malbec, Mondeuse, Merlot & Cabernets Sauvignon and Franc.
The majority of these wines are matured in pre-used barrels so as to ensure a well-balanced aging process. The company policy is to offer wines that are ready to drink, which can entail several years of maturation… and influence the sale price.
A thoughtful cultivation of the vineyard is in the process of development : fulfilling not only the specifications of Vinatura/ Vitiswiss, the withdrawal of herbicides is under way, preceding other methods of cultivation in harmony with nature.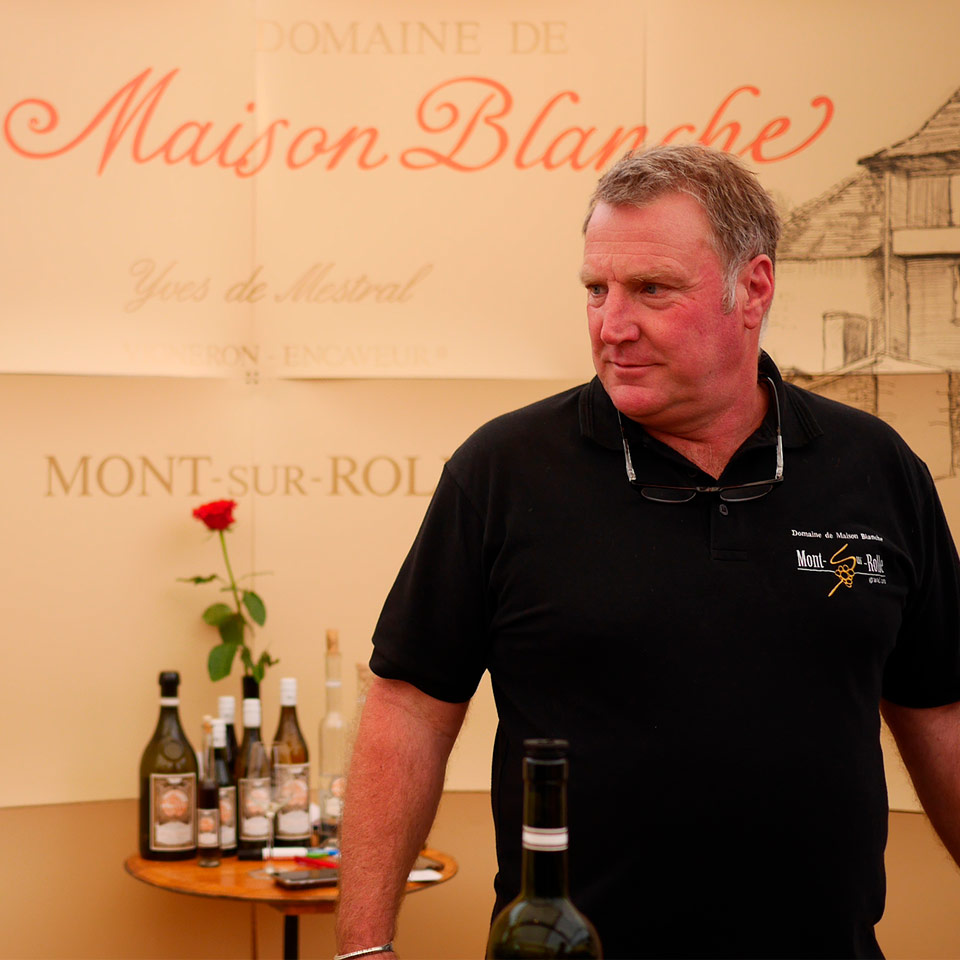 Yves de Mestral and the Maison Blanche vineyard
For around 30 years, Yves has planted other grape varieties, the wine from which he has produced with passion. The majority of de Mestral wines are the products of long aging, with the aim of producing a mature, well-balanced wine that is ready to drink.
The artisan-winemakers who join this association undertake to produce only their own wine, from their own grapes. 
Closely monitoring the growth of their grapes, then maturing their wines with love, they are the artisans of a miracle, driven by their principal motivation: the pleasure of those who drink their wine.